LG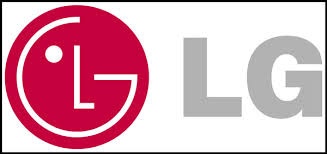 LG part numbers.
LG uses several numbers on their pcb's. When searching on an EAX number always check the extra information where the board came from when mentioned. Use EBT, EBR, EBU or other numbers found on the board when searching or the type numbers found on the television. EAX is a number used in the factory for an empty board without parts. There are several boards with the same number but the are not always interchangeable. When you are not sure please contact us.
LG onderdeel nummers.
LG gebruikt verschillende nummers op de pcb's. Als U zoekt via het EAX nummer controleer dan altijd de extra informatie als deze vermeld staat. Gebruik EBT, EBR, EBU of andere nummers op de printplaat of het type van het toestel als U gaat zoeken. Het EAX nummer wordt in de fabriek gebruikt voor lege printen zonder onderdelen. Er zijn meerdere printen met dezelfde nummers die niet uitwisselbaar zijn. Als U niet zeker bent mail ons even.
LG Teilenummern.
LG verwendet unterschiedliche Zahlen auf den Leiterplatten. Wenn Sie suchen, durch die EAX-Nummer immer die zusätzlichen Informationen lesen. Verwenden Sie bitte EBT, EBR, EBU oder Zahlen auf den Leiterplatten oder das Modell-Nummer des Geräts, wenn Sie suchen.
Die EAX-Nummer wird ab Fabrik für den leeren Leiterplatten ohne Elemente verwendet. Es gibt mehrere Leiterplatten mit den gleichen Zahlen, die nicht austauschbar sind. Wenn Sie unsicher sind, mailen Sie uns bitte.
---
LG Plasma information.
LG plasma informatie
LG plasma informationen.
After replacing one of the sustain boards always be sure that all screws are placed back. If you forget one the board can go defect again.
Na het vervangen van een sustain board altijd controleren of alle schroeven terug geplaatst zijn. Indien u er één vergeet kan het board defect raken.
Nach dem Auswechseln einer der Sustain Leiterplatte immer kontrollieren ob alle Schrauben zurück platziert sind. Wenn Sie einen vergessen, kann die Leiterplatte wieder kaputt gehen.
---
How to find a LG ordernumber.
See photograps for help.
Hoe vind je een LG bestelnummer.
Zie foto's voor uitleg
Wie finde ich eine LG Bestellnummer?
Siehe Fotos für Hilfe.
Power supply's.
Voedingen.
Netzteilen.
LG power supply's use EAYxxxxxxxxx numbers in combination with the "LGP" numbers, see photo's. The EAX numbers a numbers for plain pcbs without parts.
LG voedingen hebben EAYxxxxxxxxx nummers in combinatie met de "LGP" nummers, zie foto's. De EAX-nummers een nummer voor gewone pcb's zonder onderdelen.
LG-Netzteile verwenden EAYxxxxxxxxxx-Nummern in Kombination mit den "LGP" -Nummern, siehe Fotos.Der EAX nummeriert eine Nummer für Leiterplatten ohne Teile.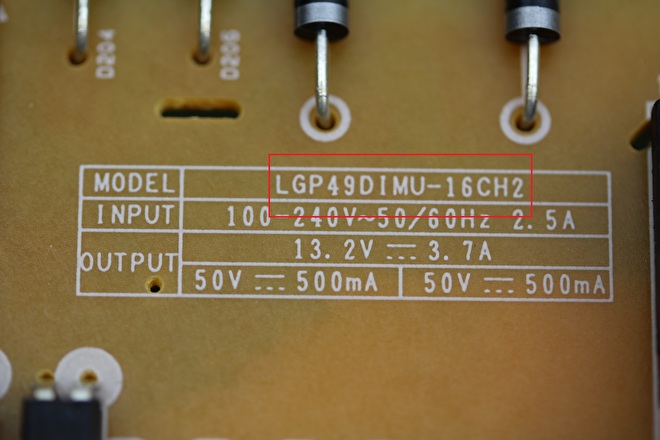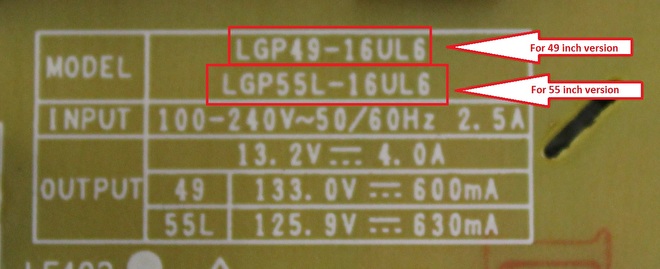 Mainboard.
Mainboard.
Hauptplatine
Mainboards have a label with an EBT, EBR or EBU number, sometimes it happens that there are only 8 digits. See picture.
Mainboarden zijn voorzien van een etiket met een EBT, EBR of EBU nummer, soms komt het voor dat er alleen 8 cijfers zijn. Zie foto.
Mainboards haben ein Etikett mit einem EBT, EBR oder EBU-Nummer, manchmal kommt es vor, dass es nur 8 Ziffern. Siehe Bild.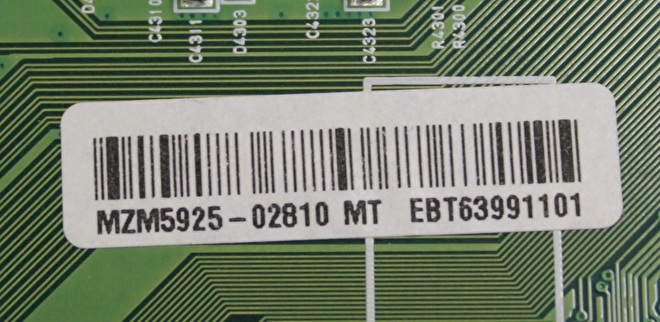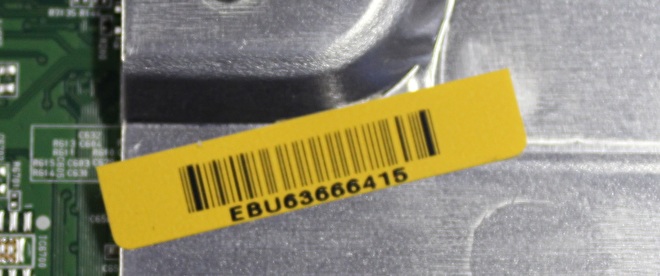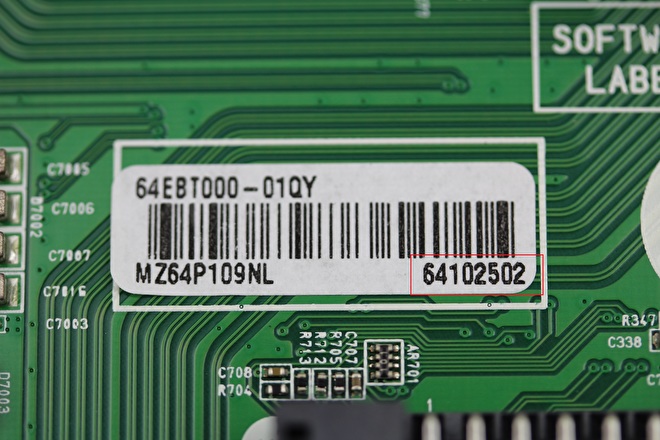 ---
Explanation LG t-con numbers.
If you need a LG t-con please look at number in the white area, there is a 4 digit number followed by 1 letter and another one digit number. You only need the 4 digits and the letter. Place 6871L- in front of that number and you will find the correct t-con you need. See pictures
Uitleg LG t-con nummers.
Als u een LG t-con nodig heeft kijk dan naar het nummer in het witte gedeelte, u ziet er een 4-cijferig nummer gevolgd door 1 letter en een nog 1 cijfer. U heeft alleen de 4 cijfers en de letter nodig. Plaats 6871L- voor dat nummer en u heeft daarmee de juiste t-con die u nodig heeft. Zie foto's
Erläuterung der LG T-Con-Nummern.
Wenn Sie einen LG t-con suchen, schau dir die Nummer im weißen Bereich an, es gibt eine 4-stellige Zahl, gefolgt von 1 Buchstaben und ein weiteren Ziffer. Sie brauchen nur die 4 Ziffern und den Buchstaben. Platz 6871L- vor dieser Nummer und Sie haben damit die richtige t-con Nummer den Sie benötigen. siehe Fotos.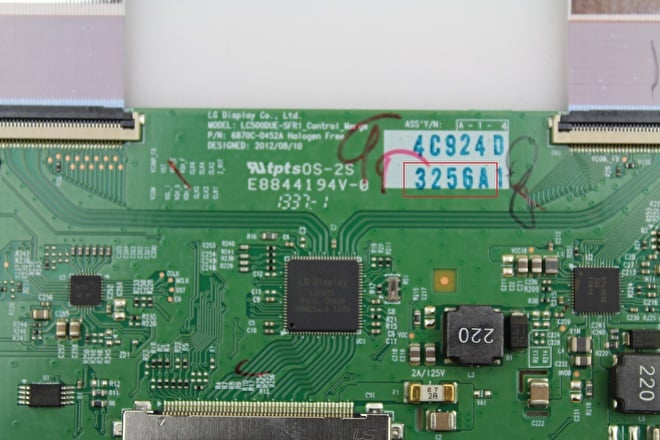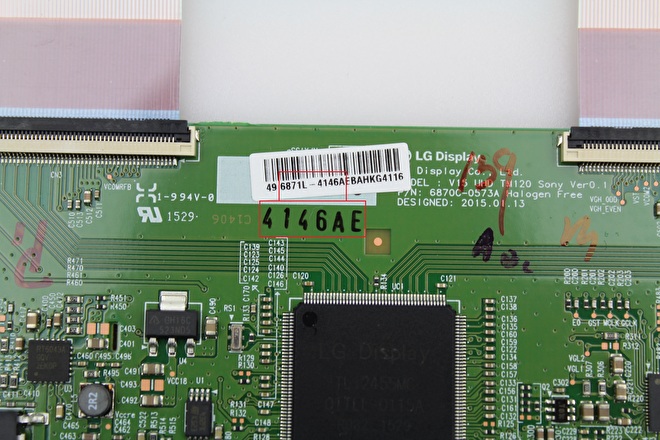 ---
Payments