Sony

Explanation LG t-con numbers.
If you need a LG t-con please look at number in the white area, there is a 4 digit number followed by 1 letter and another one digit number. You only need the 4 digits and the letter. Place 6871L- in front of that number and you will find the correct t-con you need. See pictures
Uitleg LG t-con nummers.
Als u een LG t-con nodig heeft kijk dan naar het nummer in het witte gedeelte, u ziet er een 4-cijferig nummer gevolgd door 1 letter en een nog 1 cijfer. U heeft alleen de 4 cijfers en de letter nodig. Plaats 6871L- voor dat nummer en u heeft daarmee de juiste t-con die u nodig heeft. Zie foto's
Erläuterung der LG T-Con-Nummern.
Wenn Sie einen LG t-con suchen, schau dir die Nummer im weißen Bereich an, es gibt eine 4-stellige Zahl, gefolgt von 1 Buchstaben und ein weiteren Ziffer. Sie brauchen nur die 4 Ziffern und den Buchstaben. Platz 6871L- vor dieser Nummer und Sie haben damit die richtige t-con Nummer den Sie benötigen. siehe Fotos.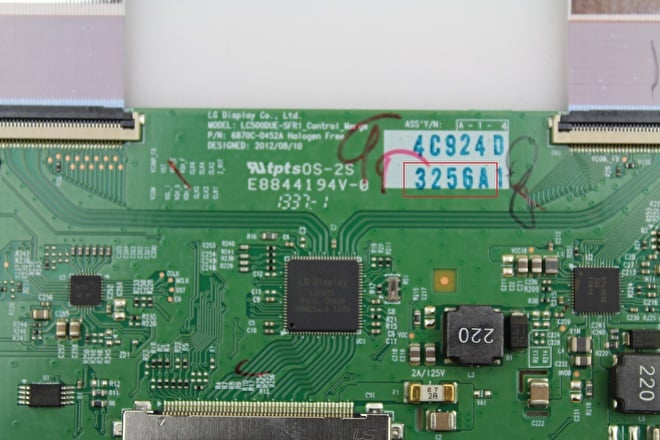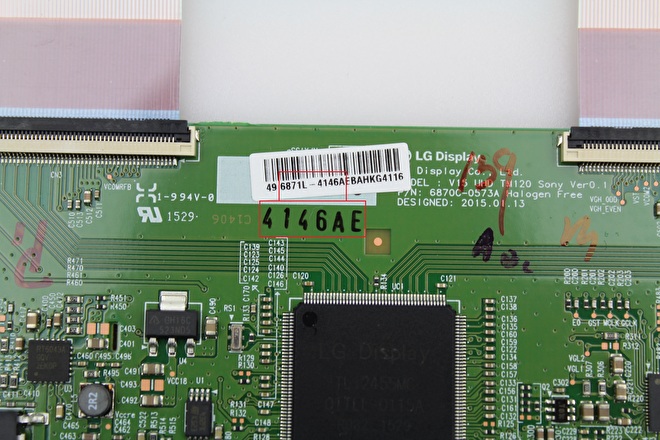 AUO T-con's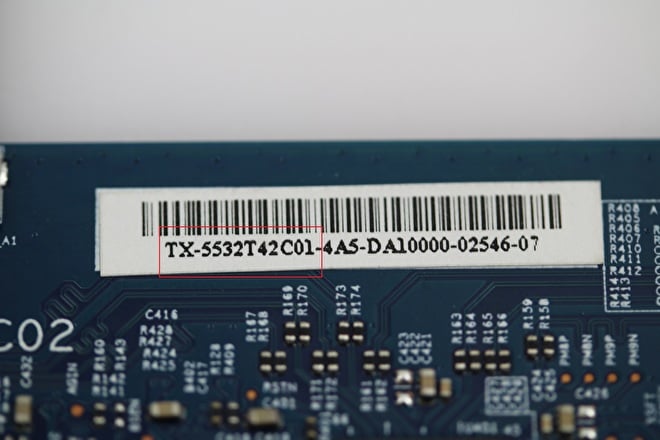 ---
Replace mainboard.
When exchanging/replacing a mainboard, the firmware often has to be reloaded. This to allow the t-con to communicate with the mainboard again.
If the LED flashes green / amber after replacing the mainboard, upload the firmware again.
You can find these on the Sony website of your country, see support / downloads
Before updating, first switch on the device for 2 minutes before inserting the USB stick into the device.
Please note, the update can take a long time, up to 45 minutes are no exception. Never remove the main power plug!
Vervangen mainboard.
Bij het omwisselen/vervangen van een mainboard moet vaak de firmware opnieuw geladen worden. Dit om de t-con weer met het mainboard te laten communiceren.
Knippert de led groen / amber na vervanging van het mainboard dan upload de firmware opnieuw.
Deze vind u op de Sony website van uw land, zie support / downloads
Voor het updaten het toestel eerst 2 minuten aanzetten voor dat u de usb stick in het toestel steekt.
Let op, de update kan geruime tijd in beslag nemen, tot 45 minuten zijn geen uitzondering. Verwijder nooit de stekker!
Mainboard ersetzen.
Beim Austausch/wechseln eines Mainboards muss die Firmware oft neu geladen werden. Damit kann der T-Con wieder mit dem Mainboard kommunizieren.
Wenn die LED nach dem Austausch des Mainboards grün / gelb blinkt, laden Sie die Firmware erneut hoch.
Sie finden diese auf der Sony-Website Ihres Landes, siehe Support / Downloads
Schalten Sie das Gerät vor dem Update zunächst für 2 Minuten ein, bevor Sie den USB-Stick in das Gerät stecken.
Bitte beachten Sie, dass das Update sehr lange dauern kann, bis zu 45 Minuten sind keine Ausnahme. Niemals den Stecker entfernen!
---
How to disconnect the LVDS cable (s).
Press the black tabs. See pictures.
Hoe maak je de LVDS kabel(s) los.
Druk op de zwarte nokjes. Zie foto's.
So trennen Sie die LVDS-Kabel.
Drücken Sie die schwarzen Laschen. Siehe Fotos.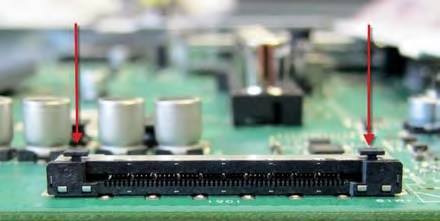 If you disconnect the cable properly, it will look like this, see photo.
Indien u de kabel goed losmaakt ziet deze er zo uit, zie foto.
Wenn Sie das Kabel richtig abziehen, sieht es so aus, siehe Foto.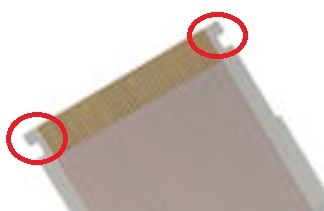 How to attach the LVDS cable (s).
Push the cable into the holder and listen for the click. See picture.
Hoe maak je de LVDS kabel(s) vast.
Druk de kabel in de houder en luister naar de klik. Zie foto.
So schließen Sie die LVDS-Kabel an.
Schieben Sie das Kabel in die Halterung und achten Sie auf das Klicken. Siehe Bild.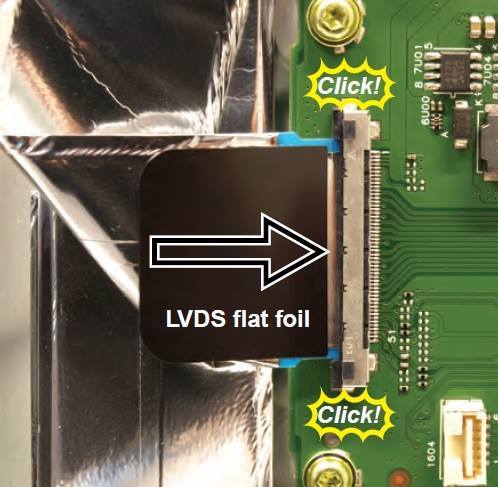 If you do not disconnect the cable properly, it will look like this and cannot be used. If you use a defective cable, there is a risk of further damage. See picture.
Indien u de kabel niet goed los maakt ziet deze er zo uit en is daarmee onbruikbaar. Indien u een defecte kabel gebruikt bestaat de kans op meer schade. Zie foto.
Wenn Sie das Kabel nicht richtig abziehen, sieht es so aus und ist daher unbrauchbar. Wenn Sie ein defektes Kabel verwenden, besteht die Gefahr weiterer Schäden. Siehe Bild.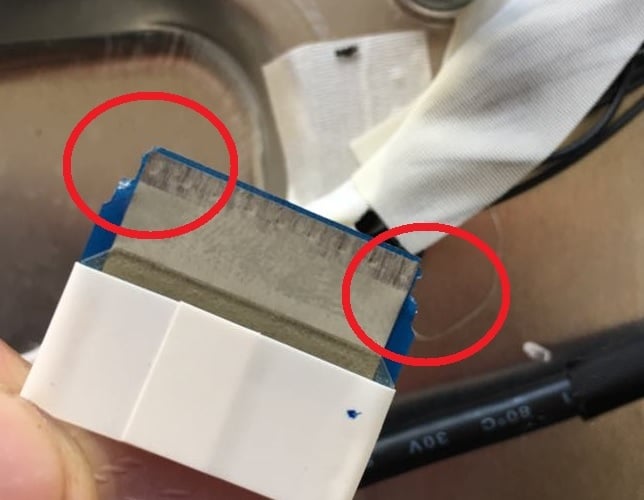 Payments